Biren Kumar Basak is an illustrious manufacturer, supplier, and exporter of different types of tant sarees that are famous throughout the country. His father, Banko Bihari Basak, was a master weaver of Tangail and Jamdani sarees. He was born in a family of weavers on 16 May 1951, at Tangail district in East Pakistan (now Bangladesh). At the age of 8, he started learning to weave sarees on a pick- loom using cotton yarn borrowed from his father.
In 1962, the partition forced Biren's father to migrate to where they settled at Phulia, Chatkatala, Santipur. The migration exhausted their finances and Biren Basak didn't continue his education anymore. Instead, he started weaving saris at a local unit to supplement the family income. At the age of 12, he started weaving Tangail sarees using attachments and traditional borders like lotus, lamb, and vine patterns alongside fish-skin patterns.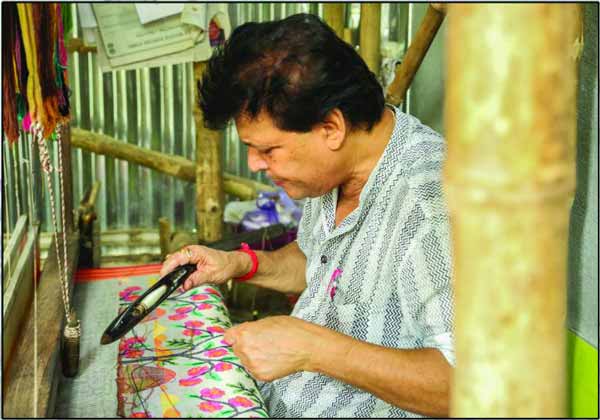 In 1970, he finally started his own business and took a loan of RS 10, 000 by mortgaging the house that one of his brothers purchased in 1968 in Phulia. He wanted to branch out his business and reach more people to gain recognition. Alongside his brother Dhiren Kumar Basak, he then started traveling to Kolkata to sell bundles of sarees. They used to take a local train to the city every day at 5 a.m. and went from door to door carrying almost 90 kgs of goods in their shoulders. There wasn't much transport available then and they used to walk for several kilometers. They started early and returned late. The same struggled ensured every day for them.
However, their struggle soon paid off as they started getting a lot of oof customers for the low prices they charge from the quality sarees they delivered. Their client base was increasing and they started getting better orders than before that started yielding profits. Both the brothers were jointly earning RS 50, 000 per month by 1978. In a couple of years, they purchased a 1,300 square/ foot space that costed around Rs 5 lakh in South Kolkata. In 1985, the brothers set up their jointly owned Biren and Dhiren Basak and company. In the next one year, the turnover of their shop was RS 1 crore.
Weaving Emperor "Mr. Biren Kumar Basak"
But fate couldn't hold them together as they decided to part ways, and his love for his roots made Biren Basak return to philia. Soon he started designing sarees and became a saree wholesaler. In 1987, he set up his shop, Biren Basak and Company, at his house with eight staff members. He began to train them in the Tangail and jamdani style of weaving in handloom with different techniques.  He has himself weaved the entire cotton and not only made saree from it but also sold it from door to door all by himself. Biren Basak is an expert weaver in Tangail and Jamdani, weaving natural cotton, silk, mulberry or non-mulberry, and khadi muslin. He has also used traditional and non-traditional motives and has received great appreciation. He has trained 300 male and 150 female weavers free of cost. These 450 weavers now weave tangail and jamdani sarees from natural fibers like cotton, silk, mulberry, non-mulberry, linen, etc. by 2016-17 his firm registered an annual turnover of around Rs 50 crore.
From the first day of his business when he sold his first saree for RS 60 to this day, his journey makes him emotional and always helps him to remain humble.
Biren Basak married in 1977 and since then his wife, Bani, has been a huge support for him. He has a son who is running a small-time thread business and yet to step into his father's business. Biren babu wants his son to realize how tough it is to earn money and wants him to internalize the same fortitude that has paved his way to success.
Biren Kumar Basak is the recipient of numerous awards. He has won the Sant Kabir award and has also received awards from our prime minister Narendra Modi. He along with his team of weavers holds the Guinness book of world records for the longest saree.
Despite his numerous accomplishments, Biren Kumar Basak is a very humble person. There is nothing in his character that exhibits his financial success. He believes in honesty, dedication, and god, and he attributes his success to all of these. He loves devotional songs and strongly detests people who greed for money. According to him, a religious mindset and avarice should not go hand in hand.  His advice to budding entrepreneurs is the same as he has always told himself: work hard with dedication and honesty and never become arrogant when you become rich. From a tragic past riddled with nightmares of partition to a successful career, Biren Kumar Basak's journey is truly exemplary.